A new functionality has been added in experimental mode:
Notifications on order opening and closing.
Notifications on position opening and closing.
Notifications on new trades (when closing a position).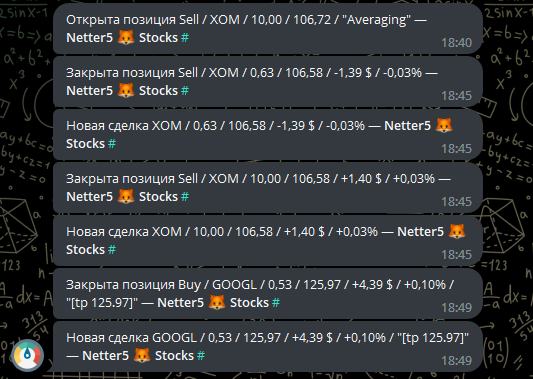 The new notifications are temporarily available to all users, after testing and stable operation these notifications will be available only on the "Pro" tariff.
In the EA for Metatrader 5, notifications come almost immediately when there is a change in the history.
In Metatrader 4 you need to specify the frequency of checking the history. The more often you check – the higher the load on the MT4 terminal, but the faster you will receive notifications of new orders and positions.
Changes in service operation:
We've added the ability to throw an affiliate code on the site. Now you can give your users an affiliate link directly to the site and they will be assigned to you during registration. New affiliate links in the "Affiliate Program".
In the EA, we have removed the possibility of specifying several magic numbers separated by commas. Now you can specify only one MM in each running EA, but you can run multiple copies of the EA on one account and specify different MM.
Fixed the formula of ROI calculation.
We have complemented the formula of calculating the profit from trading in the EA. Previously it did not take into account some rare broker's commissions.
Version 5.* of the EA works in parallel to version 6.* until the end of testing.
Download the new version 6.* in your profile in the "Connect account" section.